Kids Birthday Party Places
Are you looking for the perfect place to host your kid's birthday party?! Welcome to our comprehensive guide to the best birthday party venues in your area. Have a unique experience with rock climbing, tea parties, trampoline parks, horse farms and much, much more. You may not have even thought of one of the options below! Happy birthday hunting...
Does your business host kids' birthday parties?
Learn about how you can be featured in our guide>
You can see maps for each region: BUCKS | MONTGOMERY | LEHIGH | HUNTERDON
Showing results for Yardley, PA

Search by town:

Search Business Name (4 characters minimum):


The Market at DelVal is the perfect place to celebrate your child's fall birthday party. We're overflowing with fun-filled activities that kids love. Invite your friends to a party they'll never forget. Activities include: wagon rides to the pumpkin patch; pumpkin picking; inflatable attractions; giant corn maze & other mazes; animal education tent;

Show more... and lots more fall family fun! ...Show less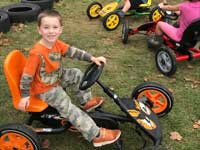 The farm is a fantastic setting for a fun farm-themed Birthday Party! Party package includes: private party grove with picnic tables reserved for 2 hours; a private hayride; farm playground; feed the chickens and Miles the Turkey; meet the bunnies; wooden maze; coloring page; and each child receives a small pumpkin (Fall season only). If you would
Show more...
like to, you may bring your own cake, food, drink, plastic/paperware, party decor, picnic table cloths, blankets or lawn chairs - we just ask that you do not bring glass. These are outdoor farm parties so please dress and wear shoes accordingly. Our party coordinator will greet you when you arrive to answer your questions and guide you to your party grove. ...Show less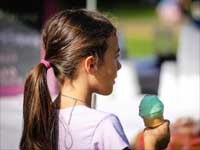 Give that special someone a party that they will always remember. After all, what better way than to spend that special day on the farm! Froehlich's Farm offers a one of a kind experience with your own private hayride, a pick your own pumpkin patch, reserved space under one of our party tents, and an exciting selection of games and activities you
Show more...
will only find on the farm. Plus, we offer custom packages for any group, so you can have the perfect farm experience at Froehlich's Farm. We offer: private hayrides; reserved party area, special gift for every birthday child, corn maze, hay maze, moon bounce, pony rides, face painting, pumpkin painting, kid activities & more! At this current time, Froehlich's Farm only offers birthday parties in the Fall during Fall Festival hours. ...Show less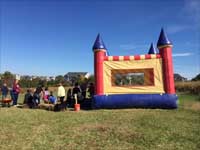 With more Party Themes than you can imagine, celebrate year after year with Fabby-Do! Our In-Boutique Parties include: Jewelry Making, Sand Art, Spin Art, Tote Bag Design, and Pillow-Tie Making. Fabby-Do Dress Up Party Packages include: Nail Painting or Makeup Makeover, Rock Star Dress Up Party, Fancy Fairy Dress Up Party, Perfectly Princess Dress
Show more...
Up Party, and more! You can add to the magic of your party celebration by inviting one of our enchanting character friends. We also offer in-home party celebrations and mobile creation stations. Visit our website for complete details. ...Show less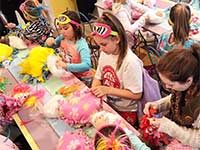 Birthday Parties at the Barn Nature Center are a unique adventure your child will never forget. We offer LIVE animal interactions and education, a huge party room, and you can even add rock climbing and a game room! We have a few packages to choose from to make your party a special one. During our birthday parties, children are taken on a staff-guided
Show more...
tour around the Nature Center and get to meet many of our animal residents that are re-homed, friendly, exotic pets. The kids will get to pet most of the animals, hold some all by themselves, and even feed some! If you prefer to have your party at home, we can bring our animals to YOU for an up close and personal, fun, and educational Traveling Animal Presentation. Our traveling birthday presentations can be themed or custom designed to meet the specific interests of your party guests. For questions or scheduling please contact our Event Coordinator, Christine, at 267-421-4818. ...Show less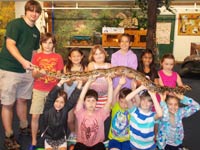 Celebrate with us in the heart of Peddler's Village, our private loft space hosts one-of-a-kind children parties to fulfill all their and your creative ideas. Satisfy their love for baking and sugar cravings, they can design, decorate, and transform ordinary cupcakes into memorable parties! Choose our most popular Cupcake Wars Party and challenge
Show more...
your friends to a sweet competition or our basic party and add on a theme! We host tea parties, princess visits, Smash parties and more! Imaginations are not limited here, so customize and book with Sweet Occasion's today for your next party! We also host cupcake camps, day off school activities, baking classes and lady's night out activities. Kids parties run 1 ½ hours and include paper products, drinks, balloons, and a cake. Want to have a cupcake party at your house? Ask about our Cupcake in a Bag Party! ...Show less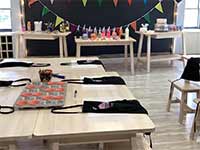 Have your celebration at the Magical Arts Center. We offer entertainment and performers for every occasion; corporate events and trade shows, cocktail parties, family entertainment, children's parties and anywhere entertainment is needed. Whatever your entertainment needs, whether it's for an audience of ten or ten thousand, our many years of show
Show more...
business experience will allow us to find the perfect entertainment solution for you and your event. Don't settle for less. Let us help make your next event the very best that it can be. ...Show less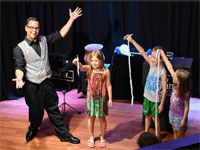 Kids LOVE our studio, and we love Kids! Celebrate your child's birthday at The Uncorked Artist and leave the mess for us. Our kids parties receive the same VIP treatment as our adult parties. Your child will love bonding and expressing their creativity with their friends in a fun and unique atmosphere. There is a 10 guest minimum for all private parties.
Show more...
Parties are available any day of the week. We have several party options for kids of all ages (even kids at heart)
11:00 am, $20 per person, 1.5-hr, Canvas Mini Instructed Paint Party (1 featured painting)
11:00 am, $22 per person, 1.5 hr, DIY Kids Studio Menu Project Party (1 featured project)
12:00 pm, $25 per person, 2-hr, Tier 1 Instructed Paint Party (1 featured painting)
12:00 pm, $27 per person, 2-hr, DIY Kids Studio Menu Project Party (1 featured project)
3:00 pm, $30 per person, 2.5-hr, Tier 1 or 2 Instructed Paint Party (1 featured painting)
3:00 pm, $32 per person, 2.5-hr, DIY Happy Hour Menu Project Party (2 featured projects)
7:00 pm, $35 per person, 3-hr, Tier 1, 2 or 3 Instructed Paint Party (1 featured painting)
7:00 pm, $37 per person, 3-hr, DIY Studio Menu Project Party (2 featured projects)
We also do mobile parties:
You select the time - $40 per person, 3-hr Instructed Paint Party (1 featured painting)
You select the time - $45 per person, 3-hr DIY Project Party (2 featured projects)

Price includes all painting / craft supplies, guided instruction / assistance, paper goods, cups and plastic ware, and a party suite (party room plus an additional area that includes 2 bathrooms). Guests take home their completed painting or project at the end of the party. Food and beverages are NOT included, but you are encouraged to BYO snacks and drinks. Arrive 20 minutes early to decorate with balloons, banners, however you like (no confetti or glitter please). We deep window sills where guests typically set out food, drinks and cake. If you prefer to have your party catered, we have several local shops who deliver to our studio. We hope you'll consider hosting your next special occasion at The Uncorked Artist! ...Show less